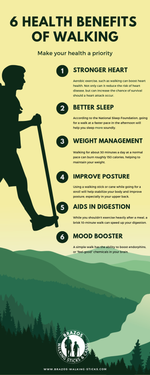 There once was a time when the untouched frontier was all around us. Suburban sprawl and highway networks have certainly made getting around easier, but it has also made finding untouched nature a bit more difficult. This is why avid hikers and those looking to immerse themselves in the great outdoors will put themselves up to the ultimate test: day-long or overnight ventures. The benefits of this, which readers can learn more about by reading the infographic from Brazos Walking Sticks, are impossible to deny. The planning, packing and mental preparation, however, cannot be understated. That's why we're offering these timely tips to those who plan to hit the trail for hours, or maybe even days, at a time with their walking cane or trekking pole firmly in hand.
Region and Climate: As we write this, it's the beginning of the winter season on the East Coast and many are planning for inches – if not feet – of snow in the coming weeks and months. In Texas, however, winter typically translates to snow in the northern sections of the state while severe cold can grip other areas. Further west, a California winter could mean merely mild temperatures and heavy rain. It's simply best to know before you go and if you plan to hike with hiking sticks while on vacation, this proactive research is bound to pay off.
Gear and Essentials: A day-long or overnight hike and camp cannot be done without the right equipment. A walking stick from Brazos will undoubtedly help you stay steady on the train as you head toward your destination. However, spending so much time in the wilderness without recognizable landmarks to help establish your heading is an issue. The tried-and-true compass can help you find due north, but smartphone apps like Gaia GPS can help hikers keep tabs on both the trail ahead and their location on it. Relying on technology during an extended hike can provide peace of mind.
The Payoff: It's easy to burn hundreds of calories while exploring beautiful state parks with the assistance of a hiking stick or trekking pole. However, calories are just numbers when it comes to aspects like heart health, getting a better night's rest, improved posture, better digestion and a boost to your mood. Please be sure to check out our infographic to learn more about these payoffs that every hiker will experience as a result of extended adventures.
Hiking can take participants to varying altitudes, across streams, over mountains and through the woods. For those who plan to make the most of their upcoming trek – with the assistance of rustic walking sticks that suit your style – then slow and steady could surely win the race.