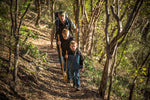 There are many rewards to going hiking as a family. Hiking not only promotes exercise and good health, it also can help build family camaraderie and create memories that will last you and your loved ones a lifetime.
But in order to have the best possible hiking experience with your family you'll have to make sure you're fully prepared. And we're here to help. There are essentials that every hiking trip should include. Here are 10 must-have items that your family needs to bring when it goes hiking this summer.
1.Bug Repellant:

 

There's no sense in letting bugs bites ruin your hike with your family. The easiest way to prevent this is to have insect repellant on hand so that your family can apply it as needed. If you're setting up camp somewhere, starting a fire is another great way to keep bugs away.
2.Hiking Poles:

 

This is a particularly important piece of hiking equipment for long hikes.

 

Hiking sticks

 

can take a lot of strain off of your back and knees as you're hiking and help conserve your energy while also providing better balance.
3.Hiking Boots:

 

It's important to make sure you and everyone in your family is wearing good hiking shoes or boots. A blister or stubbed toe while hiking is no fun. Good hiking shoes should be comfortable but also sturdy. One of the most crucial features of a solid hiking boot is good tread on the sole of the shoe.
4.Map:

 

Having a map of the area you're hiking is always a wise idea. Using a map to plan your hiking route prior to your trip is also a good way to stay on track and avoid any unexpected surprises.
5.Compass/GPS:

 

Using a compass or GPS to navigate your hike will ensure that you don't get lost. If you don't know how to properly work a compass, a GPS should be used to keep you heading in the right direction.
6.Sunglasses/Sunscreen:

 

Protection from the sun's UV rays is important anytime you're outside for an extended period of time such as when you're going on a hike. Sunscreen will protect from sunburn, while sunglasses not only protect your eyes from bright light but also partially shield your face from wind and bugs.
7.Extra Clothing/Rain Gear:

 

It's never a bad idea to pack some extra clothing in a bag that is accessible and easy to carry. If the clothing you start hiking with becomes too dirty or wet to wear comfortably, a wardrobe change might be in order. Also be sure to pack some rain gear that will repel rain as opposed to absorb it in case you get caught in one of those spring/summer storms that pop up out of nowhere.
8.First-Aid:

 

Your hiking essentials should include a small medical kit that has basic first-aid supplies and any prescriptions or medications that you or your family members need to take throughout the day.
9.Food/Water:

 

Hiking can burn a lot of calories and leave your body searching for energy. Before you get lightheaded from being too hungry, eat a snack, preferably one that's high in protein, to keep you going. Bring some easy-to-eat snacks with you as well as plenty of water to keep everyone in your family hydrated throughout the hike.
10.Flashlight:

 

If the sun starts to go down before your hike is finished, you'll be happy you packed a flashlight. Each person in the family should have their own flashlight or headlamp so that it is easier to see where they're going.