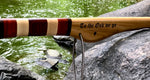 Here's another great article posted by Clint of 50 Campfires, about his favorite Safari Stick.
Posted by: Clint Carlson - Editor in Featured Articles
"Let's walk to the oak."
It's a phrase that I've heard my entire life. I grew up in central Minnesota, and the land our cabin is on has been in the family for over 70 years. Also on that land, on the north edge, is a towering oak tree. This oak tree has no idea how many stories have been woven around its very existence.
You see, there has always been a hunting stand in this tree. Thousands of hours of pondering about the past, present, and future have taken place here. For that reason, the tree has become special to all of us. Anyone who hunts knows that you end up working through things in the deer stand, and that the tree endears itself to you over time. "The oak" is all of these things to our family and more.
When asked what I wanted to be engraved on my Brazos Walking Stick I was at a loss, partly because the craftsmanship is so stunning that I didn't know if I wanted anything engraved. I wanted the phrase to be as thoughtful as the creation of the walking stick itself was. When I started thinking about the family cabin, the answer was apparent immediately.
Every time we visit the cabin, we throw a few beverages in a pack and walk to the oak. It's what we've always done. It's just under a mile each way, so it's an easy hike for all ages. The path is a winding one, worn by decades of hauling firewood and hunters (and sometimes deer).
The Brazos Walking stick is a work of art, and it made me think about the things in my life that mean a lot to me. I like that about it. I love that we have a beautiful walking stick hanging on the wall at the cabin that says "to the oak we go." It makes the hike just a little more meaningful and sometimes seeing it provides that extra nudge to get out there and enjoy everything the forest has to offer.