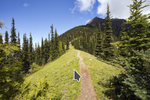 For some, hiking is more than a hobby. This outdoor activity is a way of life and requires professional products to get the job done right. If this statement rings true to you, then trekking poles from Brazos Walking Sticks may be the way to go. While the rustic look of a wooden staff has an undeniable appeal, investing in pro-grade trekking poles has additional benefits that users can see, feel and take advantage of. If you're on the verge of making the purchase, we hope that this article clearly conveys all the reasons why a modern investment will make your next hike safer, more enjoyable and easier on the body.
View from the Top: The first thing you'll likely notice about trekking poles from Brazos is the non-slip grip that has been molded to fit the shape of the user's hand. This padded, two-tone rubberized grip with an adjustable padded wrist strap is not something you're going to find on many other poles. These design elements were all incorporated into the final product because Brazos uses its trekking poles, too, and we know that there are many benefits to be had from them.
Safe, Secure and Stable: Hiking is an adventure and there are bound to be bumps in the road – or trail. Factoring for this, we've incorporated a shock absorber into the lightweight aluminum shaft and the poles weigh in at a minimal 1.4 pounds each. The solid construction of the shaft ensures durability while the adjustable shock absorbers makes the entire trek more comfortable. The fact that our trekking poles are height-adjustable makes them even more versatile. From the collapsed length of 27 inches, which is for storage purposes, up to 53.2 inches, avid hikers of all heights will be able to use these poles to their advantage.
Roads Less Traveled: There are plenty of reasons why people buy trekking poles from Brazos, but it's the little things that we've incorporated that makes us the gold standard among hikers and other outdoor enthusiasts. Among these perks are tungsten carbide tips that will dig into the dirt when you need them to. However, we also offer ferrules that cover the tip and allow for roadway traction that won't leave a scuff or mark behind.
According to the American Hiking Society, there are more than 193,500 miles of hiking trails on federal land across this country. What's more, there are also more than 34 million and 9 million U.S. hikers and backpackers, respectively. To these people, the great outdoors is their great escape and it is best done with quality gear in hand. For those looking to acquire equipment that's going to go the distance, Brazos Walking Sticks can help.