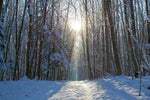 Cooler weather is the harbinger of the holidays and as such, it's typically the seasonal cue that lets us know it's time to start searching for gifts. Problem is, it often takes most of us a few weeks to find the perfect present.
Fortunately, for those who know about our hand-crafted walking sticks and hiking sticks, normal holiday shopping stresses are a thing of the past. For those who don't know much about our American made hiking and walking sticks or just want to know more about what their gift recipient can expect from our products, we've broken down some of the key points below.
Our hiking sticks and trekking poles are handcrafted pieces that are individually made in the U.S.A. by skilled craftspeople. These products help avid hikers more easily conquer the slippery trails and large rocks before them. Those who plan on gifting hiking sticks or trekking poles can truly customize the gift for the recipient. Customization options for these premium products are endless, and give shoppers the opportunity to create hiking sticks that are as unique as their loved ones. You can select the style of cane, type of wood, medallions that are inserted into the handle and engravings. Since you have a say in every single element, you'll end up with an owner-specific item that's definitely a one-of-a-kind, meaningful gift. Here's just one example: you could order a"Backpacker" style trekking pole made from oak and bearing a U.S. Army veteran medallion, with the owner's rank and date of service engraved into the length of the stick. It's truly a gift that can't be duplicated!
Another option is our twisted walnut Derby-style walking stick for women that is perfect for indoor and outdoor use. With our experts designing and constructing the walking stick, you can rest assured that you are providing the highest quality product on the market for your friend or loved one. Walking sticks make thoughtful holiday gifts that can be used every day to provide a little bit of extra convenience, stability and mobility for the recipient. Whether your friend or loved one is a retired police officer whose career took a toll on their body, or just someone who just needs extra assistance from time to time, our walking sticks make everything easier.
With the holiday season fast approaching, don't let time slip by and the opportunity to order a custom hiking stick, walking stick, or even a cane pass right along with it. Rather, take time to peruse our selection and contact us so you can provide the best gift for your friend or loved one this holiday season.