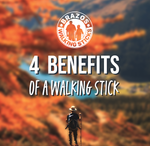 1. Aerobic Workout
When you carry a walking stick on your stroll you add in an exercise with your arm giving you a more full workout!
2. Balance & Stability
Whether you have a rubber ferrule or a metal spike, a walking stick grips the ground and becomes a steady shoulder to lean on.
3. Proper Posture
Holding a walking stick encourages your back to stay upright and helps strengthen your muscles to keep it that way.
4. Ease Joints
And finally a walking stick helps relieve the weight on your lower back, hips, and knees helping with arthritis and chronic pain.
These benefits are stated here at the Mayo Clinic