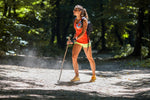 The military, police officers, and firefighters all risk their lives to keep us and our country safe. Give back to those who have served you and your country with a handmade Brazos walking stick. Difficulty walking and climbing stairs is the most common disability among disabled veterans. A walking stick improves balance and mobility for disabled and older veterans, while serving as a personal memento of their sacrifice and service. Read on to discover the benefits of Brazos walking sticks and canes for retired police officers, firefighters, and veterans.
Improve balance and mobility
As people age daily physical activities like walking become more difficult. This is especially true for veterans and retired police officers and firefighters, as they have endured a career of tough physical work. A cane or walking stick provides a walking aid that improves your balance and mobility. With a walking stick, walking becomes much easier, allowing retired veterans to remain active. Additionally, a walking stick forces you to move in an upright position and maintain good posture.
Handmade in the USA
Brazos walking sticks aren't like your average walking stick. They exhibit the highest quality craftsmanship. Each Brazos walking cane and walking stick is individually crafted from the finest native and exotic woods, such as hickory, sassafras, iron bamboo, and sweet gum. All Brazos products are handcrafted by local artisan craftsmen in Central Texas, near the Brazos River. Most of the walking sticks are harvested in the nearby woods of Eastern Texas, Arkansas, Western Louisiana, and the high mountain deserts of New Mexico.
Customization
Customization with laser engraving is available for all Brazos walking sticks and canes. Personalizing a walking stick makes it uniquely yours. For instance, a walking stick can be laser engraved with a veteran's name and military branch or a retired firefighter's name and fire department. Accessories like a whistle or compass can also be added to further customize the walking stick.
Thank your loved ones for their service with a Brazos walking stick. The general benefits of walking sticks, combined with Brazos's high-quality craftsmanship and customization, makes a walking stick or cane the perfect gift.