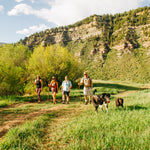 We frequently get calls from customers looking for a hiking stick or walking cane to help keep them safe on trails and in neighborhood streets. Most concerns revolve around four-legged creatures, the kind with sharp teeth and surly dispositions.
My family and I live out in the country, and if there's one constant to country life, it's the fact that there will be loose dogs running around—and typically there are no dog-catchers to corral the fierce canids. Therefore, if we want to enjoy leisurely strolls through rolling Texas countrysides, we need to be constantly aware of potential threats from not-so-well-meaning pooches.
Enter the hiking stick. One customer I spoke to assured me that dogs actually notice a human with a walking stick, and often times choose not to harass someone who's carrying around something that could potentially bonk their doggie heads. While I'm not sure that dogs are that smart, a walking stick at least gives you a sense of well-being as a last line of protection between you and a ferocious mouth full of teeth.
Now on to the customary caveat: We do not design hiking sticks to protect people from animals. Quite simply, they're designed to provide support and balance while walking. (However, we're not naïve to the fact that hiking sticks do indeed offer a number of ancillary benefits.)
With all that said, here is a practical tip to help you steer clear of dog bites:
– Stay away from dogs.